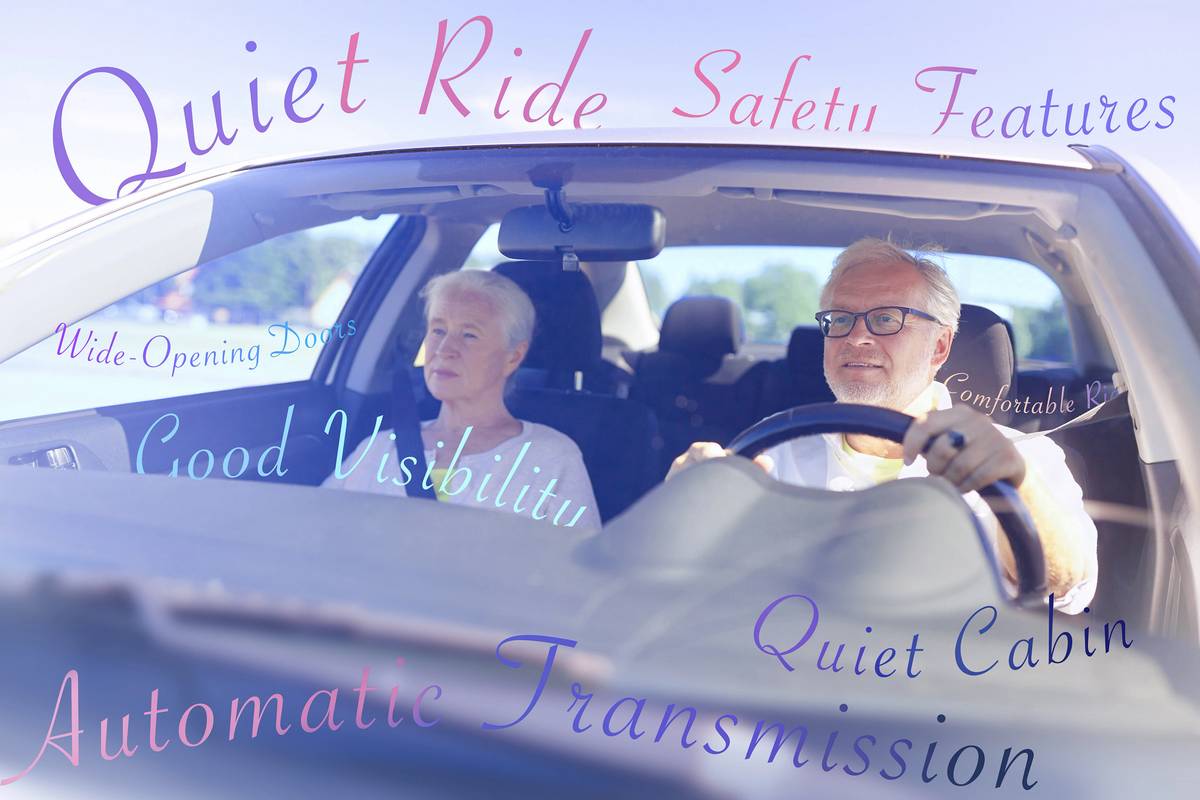 Safety is always top of mind for the Editorial team here at Cars.com. We stay on top of the latest in-vehicle safety technologies. We conduct Car Seat Checks. We cover crash-testing conducted by the Insurance Institute for Highway Safety and National Highway Traffic Safety Administration. We report recalls. So when we decided to poll our editors on their favorite vehicles for senior drivers, we started with safety. 
Related: 10 Helpful Safety Features for Mature Drivers
Here's why: Longer life spans often mean people are driving well into old age, and statistics from IIHS back that up. According to IIHS, older drivers now keep their licenses longer and make up a bigger proportion of the population than in the past. That trend is expected to continue as baby boomers age, culminating in some 53 million U.S. citizens reaching age 70 or older by 2030, according to estimates from the U.S. Census Bureau.
This, of course, leads to concerns about traffic safety. While older drivers have lower fatal crash rates than in the past, they still face a greater risk of injury or death due the inevitable increase in fragility that comes with aging.
To have a reasonable number of vehicles from which to choose for this endeavor, we started with model-year 2020 recipients of IIHS Top Safety Pick and Top Safety Pick Plus awards. These cars must meet stringent safety criteria to qualify. Knowing that many seniors live on a fixed income, we set a price cap of $35,000; that resulted in 30 qualifying vehicles out of more than 70. We then polled our editors, asking them to pick their top five from the list of 30, considering these attributes:
Automatic transmission

Safety features (beyond the IIHS-tested collision warning/prevention systems, do the cars offer blind spot monitoring, lane-keeping assist — driver-assistance technologies that can help drivers who aren't as agile as they once were?)

Good visibility

Easy to get into, out of (i.e., low step-in height but elevated seating position, wide-opening doors, easy-to-use cargo area)

User-friendly multimedia system with large buttons, knob controls

Easy-to-read instrument and system control displays

Quiet cabin

Comfortable ride to combat driver fatigue

Power adjustable seats/pedals/steering with memory settings
Vehicles didn't have to offer all of these features, but they needed to have some. One thing to note: Not all safety systems or features are created equal. Some are more nannyish than others, which older drivers might find annoying or confusing. Each manufacturer offers a different take on them, so it's best to test-drive vehicles that interest you and use the safety features during the test drive. (Not sure how to operate a feature? Ask the salesperson to demonstrate. That's their job.) Safety features will do you little good if you buy the car and then shut them off because you don't like how they work.
So, on to our list: We ended up with seven cars rather than five because there were two ties, and they're ranked by the votes they garnered from our staff. We've noted which IIHS award each vehicle gets, along with the price of the lowest trim level to offer an automatic transmission with the IIHS-tested safety system and qualifying headlights (vision being another sense that tends to fail as we age). Here are our favorite cars for senior drivers:
Kia's quirky box on wheels is a staff favorite. What do we like? With the 2020 redesign, the peppiness of both engines, its hatchback utility, and good visibility to the front and sides (the rear window is a bit small). The EX trim comes standard with forward collision avoidance, lane change and lane keep assist, blind spot warning, rear cross-traffic alert, driver attention warning and projector LED headlights. Along with that, you get a 10.25-inch touchscreen (standard on the EX, 7 inches on lower trims) through which to operate Kia's user-friendly UVO multimedia system ("intuitive" according to Cars.com reviewer Jennifer Geiger), a quiet cabin, easy entry and exit, and one of the best warranties around. As a senior driver myself, the playful Soul is my choice for when my husband and I decide we no longer want to tow a boat. It's funky, functional and fun to drive.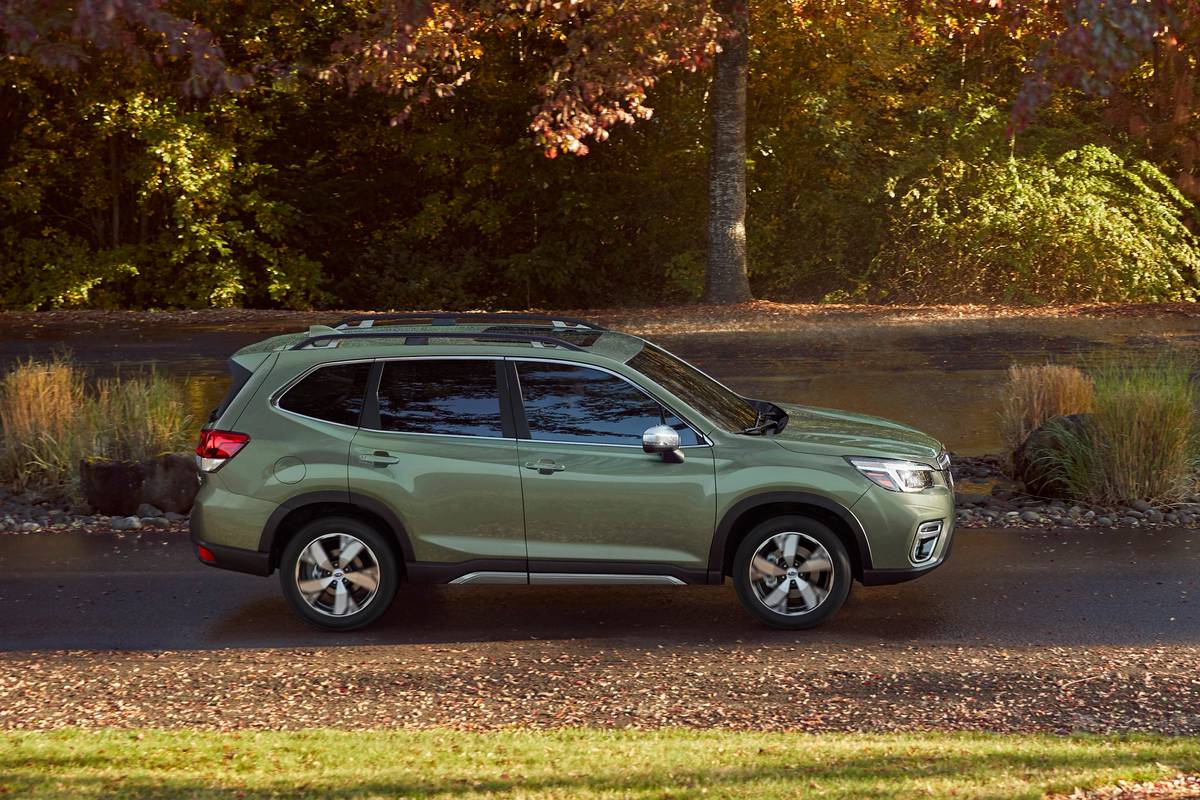 The 2020 Subaru Forester tied with its stablemate, the 2020 Subaru Outback. Our tiebreaker for these two was visibility: The Forester's copious amount of glass gave it the No. 2 position. It's one of the compact SUV's many standout features; in fact, good sight lines helped it cinch the No. 2 spot in our 2019 Compact SUV Challenge, a segment-spanning head-to-head comparison test. Redesigned for model-year 2019, the 2020 Forester sees the addition of lane-centering steering and lane departure prevention assist to the standard EyeSight suite of safety features that also includes full-speed front collision warning with automatic emergency braking, adaptive cruise control and more. All of the Forester's headlights get the requisite good or acceptable ratings needed to get the TSPP. We have quibbles about the usability of Subaru's safety systems and Starlink multimedia system — they're not the most intuitive — but you get lots of bang for the buck with this affordable compact SUV, which can actually function well off-road if that's your heart's desire.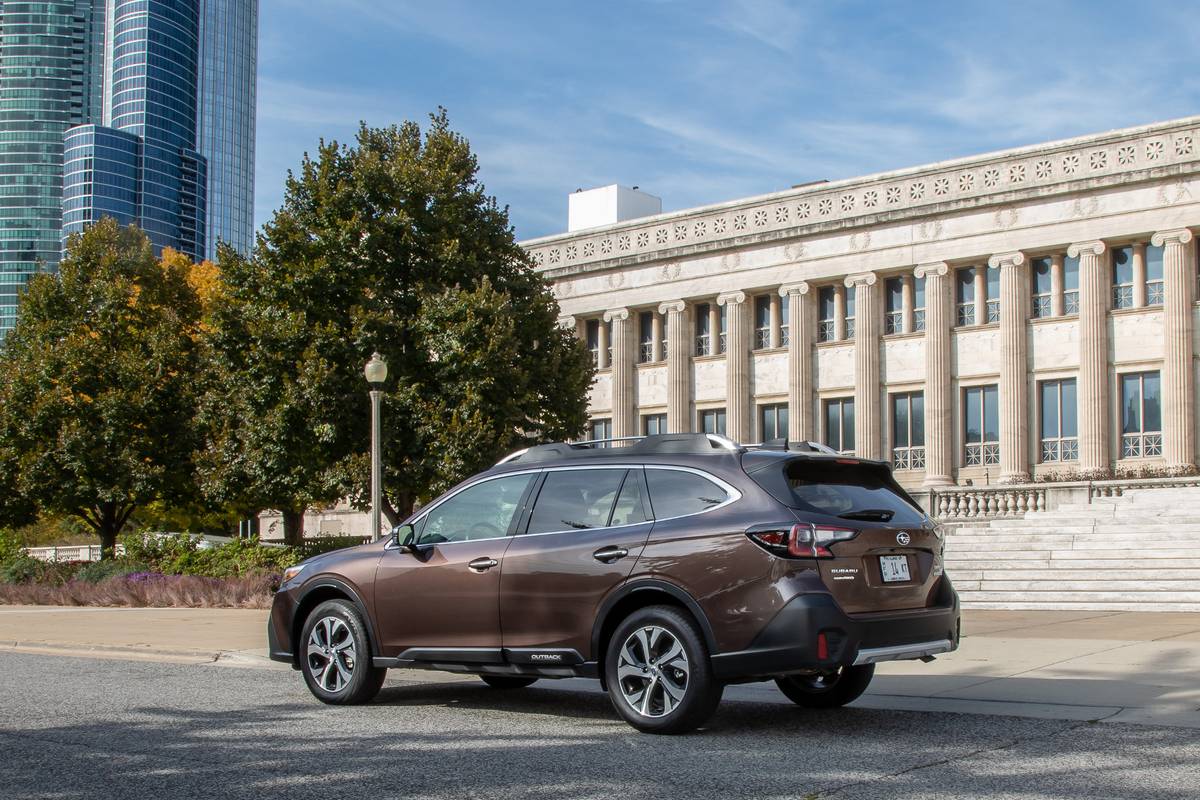 While the redesigned 2020 Subaru Outback may not look that different from the 2019 wagon, it feels quite different. In fact, Cars.com reviewer Aaron Bragman says the Outback's new platform makes it drive like a premium luxury vehicle — and who doesn't want that kind of experience? Like the Forester, all Outbacks come standard with the EyeSight suite of safety features, all-wheel drive and headlights that meet TSPP criteria. The redesign also included an upgrade to the Starlink system for the Outback with an 11.6-inch tablet-style touchscreen that Bragman praised for its functionality; it's standard on the Premium, Limited and Onyx Edition XT models (the 11.6-inch screen with navigation is standard on the Touring, Touring XT and Limited XT). Add in a comfortable, roomy cabin and it's no wonder that the Outback is a staff fave (a few of us own or have owned one).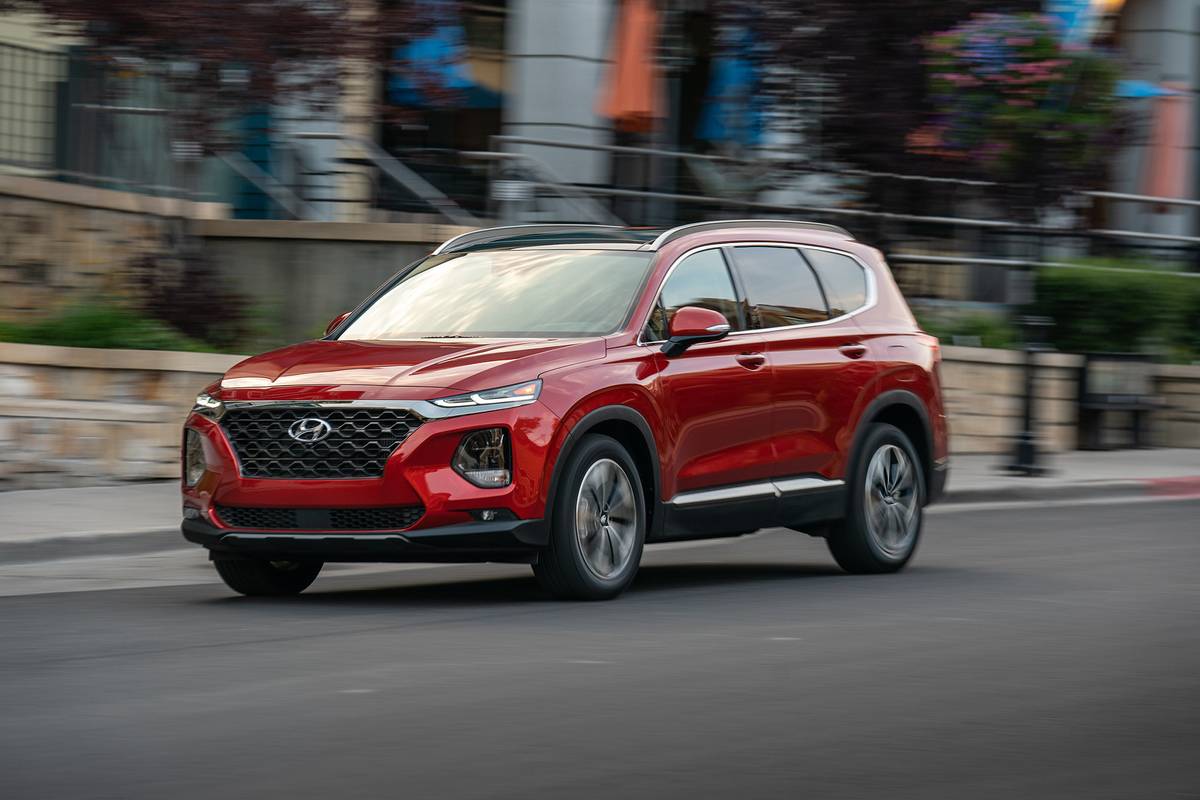 IIHS Top Safety Pick (with specific headlights)
Santa Fe SEL with Convenience and Premium packages: $34,200
Winner of our 2019 Mid-Size SUV Challenge, the Santa Fe offers great value and straightforward controls, attributes senior drivers should appreciate. For model-year 2020, this family hauler added some safety features, including blind spot cameras that show a camera view of the blind spot when the turn signal is activated. Our Challenge judges praised the Santa Fe for its user-friendly touchscreen, dashboard controls and Blue Link multimedia system. They also liked its cargo versatility and the value it offers: "The Santa Fe is a home run for value, with the most generous buffet of luxury features and advanced tech in this mid-size group for the lowest price by a lot." And like the Kia Soul, it has one of the best warranties in the industry.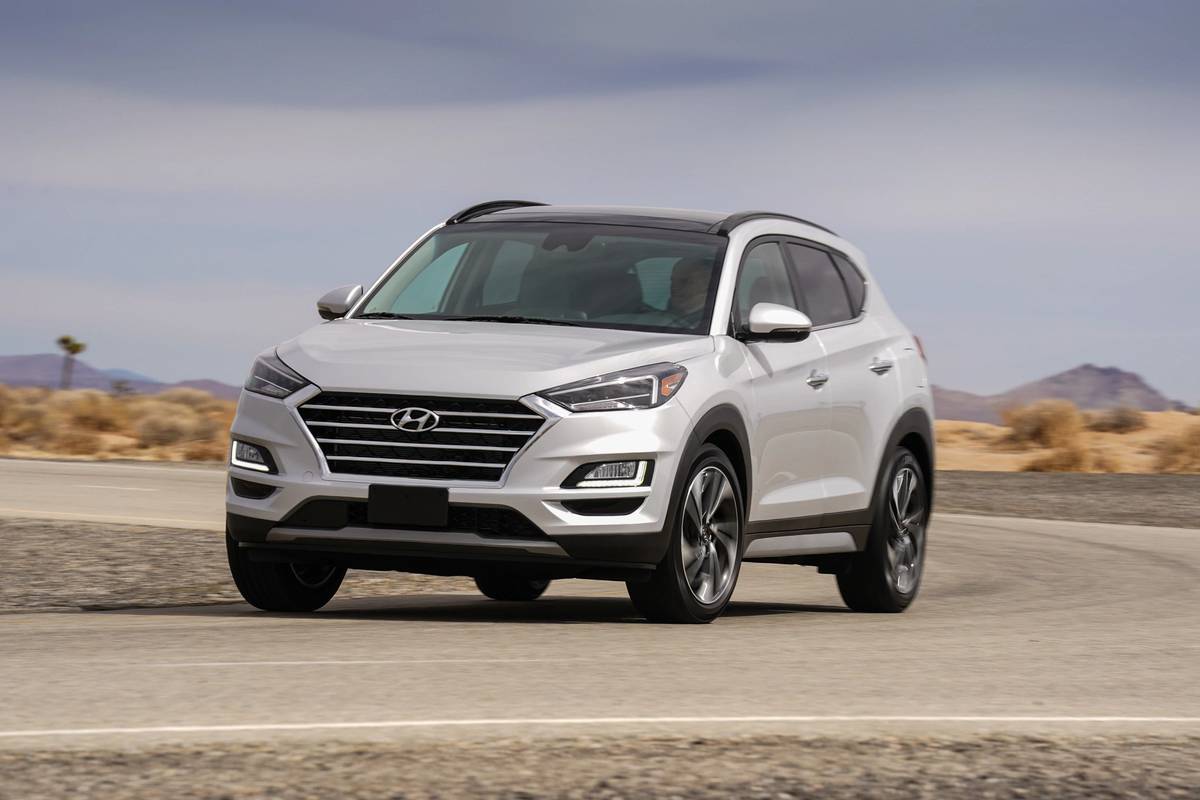 IIHS Top Safety Pick (with optional front crash prevention system and specific headlights)
Tucson Sport: $29,240
Another contender from our 2019 Compact SUV Challenge, the Hyundai Tucson ranked a solid No. 3 after the Subaru Forester. The Tucson saw no significant changes for the 2020 model year, so the qualities our judges liked in the Challenge — exceptional value, a smooth powertrain with a comfortable ride, lots of standard safety technology and an easy-to-use multimedia system — carry over to the 2020 Tucson. Reviewer Mike Hanley praised it for "safety features that aren't overly intrusive" and "easy-to-use cabin controls." IIHS did not rate the standard front collision avoidance system for the Tucson; it rated only the optional system with pedestrian detection, which is standard on the Sport and Ultimate models. Both models also come with good-rated headlights. Other standard safety equipment includes blind sport warning (except on the SE trim), rear cross-traffic alert (except SE), driver attention warning and lane-keeping assist.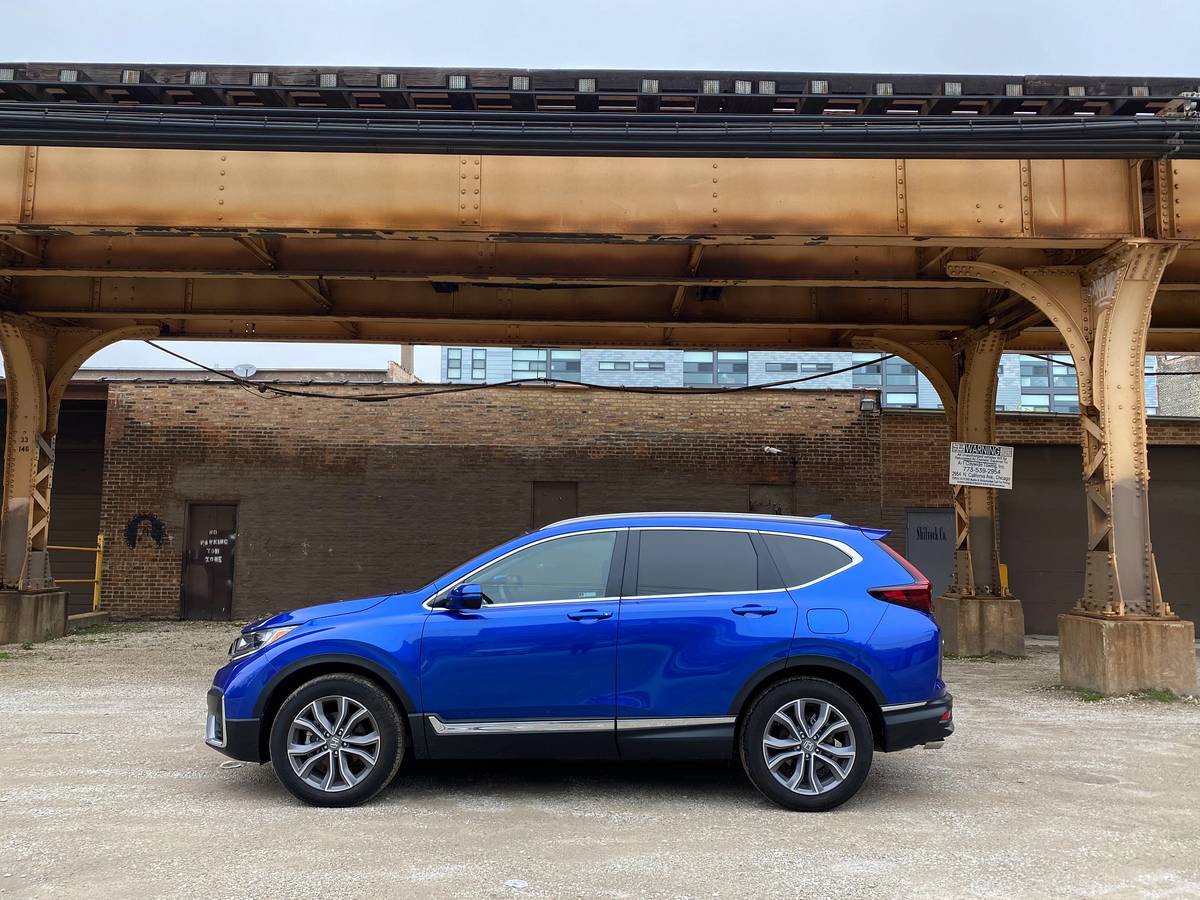 Honda's popular CR-V tied with the Kia Sportage, and the CR-V's elevated ride height and lower liftover height in the rear cargo area gave it the edge. Both dimensions matter for seniors: A higher seating position provides better visibility, and a lower liftover makes the cargo area easier to use. It took fourth place in our aforementioned 2019 Compact SUV Challenge, receiving accolades for its cargo space, a configurable center console storage, roomy backseat and fuel economy. Honda's suite of safety features, Honda Sensing, is standard across the CR-V's trim levels. The top-of-the-line Touring trim gets the headlights that give the CR-V the TSP nod; the three lower trim levels have headlights with a marginal rating, so they don't qualify for the award. If the CR-V Hybrid interests you, the TSP designee also gets Honda Sensing standard and its acceptable headlights are available in the LX, EX and EX-L trims for less than $35,000. Our Challenge judges did ding the CR-V for the multimedia system's "convoluted menu system and hard-to-use touch-sensitive controls."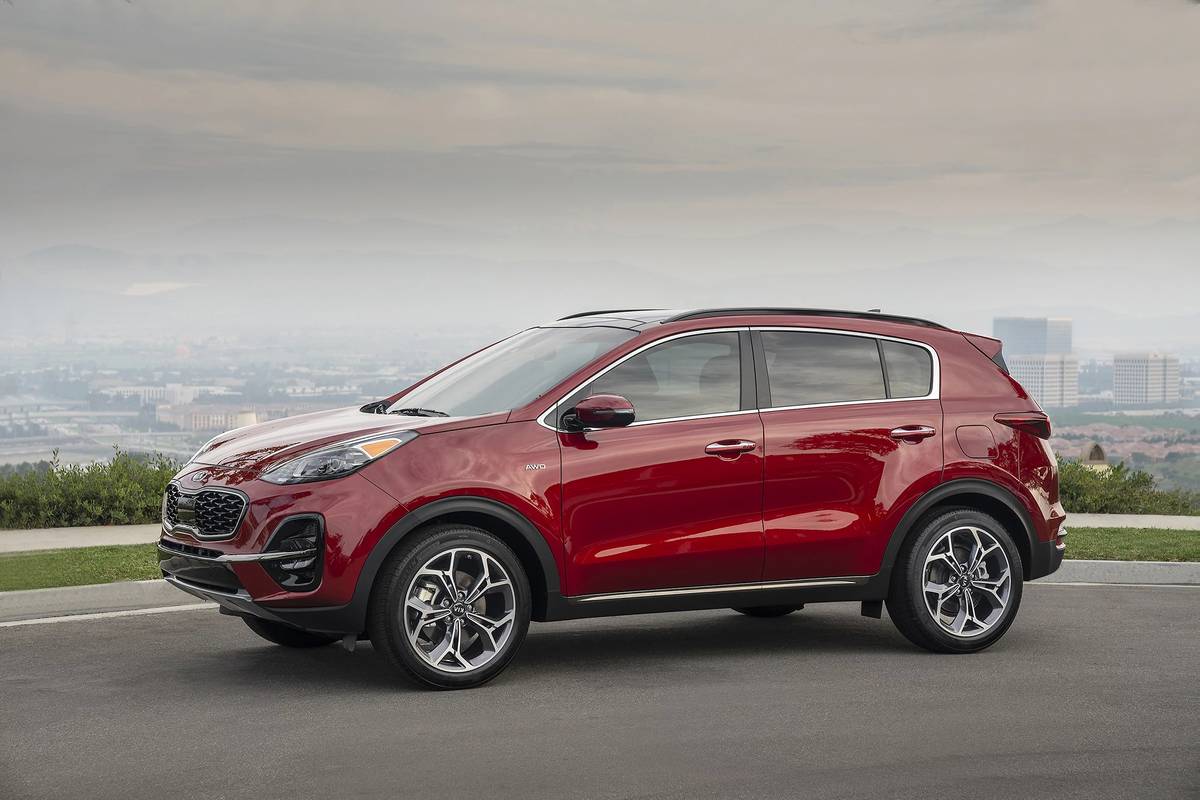 Redesigned for the 2017 model year and refreshed for 2020, the Kia Sportage compact SUV offers plenty to recommend it for older drivers. It boasts Kia's easy-to-use UVO multimedia system and offers roomy accommodations in the front and rear along with decent cargo room. The Sportage's standard safety system — which includes lane keep assist, lane departure warning, forward collision avoidance with pedestrian detection and high-beam assist — gets the TSP nod of crashworthiness. Blind spot warning and rear cross-traffic alert are standard on the top two trim levels. The top-of-the-line SX Turbo has the top-rated headlights, though SX Turbos built from March to September 2019 have poor-rated headlights and don't qualify for TSP; the rest of the lineup has poor-rated headlights. Other 2020 changes older drivers might like include a bigger standard touchscreen (8 inches) with Android Auto and Apple CarPlay. I'm well familiar with the Sportage; my household owns a 2014 model, and it's served us well as a commuter car and road-trip warrior. The comfy cabin makes it a comfortable ride for long or short hauls; my family also likes the way it handles.
More From Cars.com:
Here are the other 23 vehicles for $35,000 or less that earn IIHS TSP or TSPP designations:
Looking for something bigger or more luxurious? There are plenty more Top Safety Pick and Top Safety Pick Plus designees to choose from at IIHS.
Related video:
Cars.com's Editorial department is your source for automotive news and reviews. In line with Cars.com's long-standing ethics policy, editors and reviewers don't accept gifts or free trips from automakers. The Editorial department is independent of Cars.com's advertising, sales and sponsored content departments.
Share