Electric pickup trucks are no longer a prospect: they are a reality. 
With Tuesday's additional teaser of the Ram 1500 EV due for 2024, that leaves only the Nissan Titan as a full-size pickup truck without any electrification. The 2022 Tundra can be had as a hybrid, but Ford, Chevy, GMC, and Ram all have full EVs coming to market. 
The list of battery electric pickup trucks continues to grow, from established stalwarts such as the Ford F-150 Lightning to adventurous upstarts such as the Rivian R1T. But the Tesla Cybertruck introduced late in 2019 still seems as far off as the Ram 1500 EV.  
What is known for sure is that pickup trucks have gotten more expensive with each year, averaging at least a 3% increase annually since 2009, according to J.D. Power. Loaded with luxury and convenience options, the basic but long-lasting work truck has evolved into a family truck that can double as a mobile boardroom. In 2019, consumers paid a record $51,700 for a new pickup truck, before incentives. 
Pickups cost about $11,000 more than other passenger vehicles, and account for about 15% of all new-vehicle sales. Electric trucks follow a similar pattern, yet truckmakers such as Ford dared to release a basic electric work truck for under $40,000. There may be hope yet. 
The electric trucks listed below range from what's on sale now to what are under development. Prices could change, but here's what we know about what it will cost and when. Keep in mind there are a few other startups—like Ohio's Lordstown Motors, which still aims to make its trucks starting later this year. All of these electric truck makers are American based and American made.  
2022 Rivian R1T
Price: $67,500-$76,800
On sale now: Larger battery pack providing 400 miles of range is expected for 2022. 
Rivian R1T – hot-weather towing test
Rivian R1T
Rivian R1T, 2018 LA Auto Show
Rivian R1T electric pickup concept
Launched before the R1S SUV, the R1T was the first available battery electric pickup to market and it's such a great vehicle it won our Motor Authority's Best Car To Buy 2022 awarded by our sister publication. Detroit-based Rivian makes the R1T base model with a 135-kwh battery pack and a 300-mile range, while the upgraded 180-kwh pack due in 2022 is expected to have a 400-mile range and hit 60 mph in 3.0 seconds. Powered by four electric motors for each wheel, and making 415 hp and 413 lb-ft of torque at the front axle, and 420 hp and 495 lb-ft at the rear axle, the truck is lightning fast (0-60 mph in 3.0 seconds) and supremely capable with a towing capacity of 11,000 lb, an air suspension, and more than 50 different drive mode configurations. A smaller, less expensive version with a 105-kwh pack is due a year after initial rollout. As long as a mid-size truck but as wide as a full-size truck, the short 54-inch bed lends itself to a roomy, luxurious crew cab, and excellent cargo solutions such as a cargo tunnel between the cab and the bed that can hold up to 300 lb of gear, and could be filled with a slide-out camp kitchen. It is an excellent adventure vehicle, and silent, emission-free off-roading with its electric powertrain is an added bonus. 
Rivian buyers still qualify for the $7,500 federal EV tax credit. 
2022 Ford F-150 Lightning
Price: $41,669-$92,569
Expected delivery: Mid-2022
2022 Ford F-150 Lightning Pro
A hybrid F-150 preceded the fully electric F-150 Lightning and reception for both models has been good. For the second time since the Lightning launched, Ford increased production targets to a total of 150,000 annually. Dual in-board motors are powered by either a standard-range 98-kwh battery pack good for 230 miles or an extended-range 131-kwh pack with an estimated 300-mile range. Either pack can create up to 775 lb-ft of torque from the motors, while the standard range generates 426 hp and trucks with the larger pack are rated at 563 hp. Towing capacity reaches 10,000 lb and Lightning has a max payload of 2,000 lb. base 2022 F-150 Lightning Pro with the smaller 98-kwh battery pack costs $41,669, including $1,695 destination. It will be sold in Pro, XLT, Lariat, and Platinum trims. The top Platinum model with the standard larger 131-kwh pack lists at $92,569. Available only with a crew cab and a short 5-foot-5 bed, the Lightning can charge appliances or act as a backup home generator with up to 9.6 kw of output from the bed.
Generally speaking, the automaker has said the electric F-150 will emphasize the cost-of-ownership advantages of electric and, according to CEO Jim Farley, will be "a workhorse, not a showhorse." We do expect it to beat the rumored electric Chevy Silverado to market. Ford hasn't sold 200,000 electric vehicles so buyers will still qualify for at least some of the federal EV tax credit, depending on sales of the 2021 Ford Mustang Mach-E. 
Price: $112,595 for Edition 1; $79,995 EV2 base model
Expected delivery: Edition 1 on sale now; base model for 2024
2022 GMC Hummer EV
2022 GMC Hummer EV
2022 GMC Hummer EV
2022 GMC Hummer EV
Once the nemesis for environmentalists, the return of the Hummer and its zero tailpipe emissions epitomizes all that's changed in a decade. A tech showcase with four-wheel steering so it can crab walk, an adaptive air suspension with a ground clearance of up to 15.9 inches, GM's Super Cruise hands-free driving system, a four-panel removable roof that can be stowed in the frunk, the new Hummer is all about capability and exclusivity. The 1,000-horsepower three-motor system has an estimated range of 329 miles and can hit 60 mph in about 3.0 seconds despite weighing more than 9,000 lb. Its 1,000 lb-ft of torque help it tow up to 11,000 pounds. Even the base model not expected until 2024 costs more than $80,000. 
GM electric vehicles no longer qualify for the $7,500 federal EV tax credit.
2024 Chevrolet Silverado EV
Base price: $39,900
Expected delivery: Spring 2023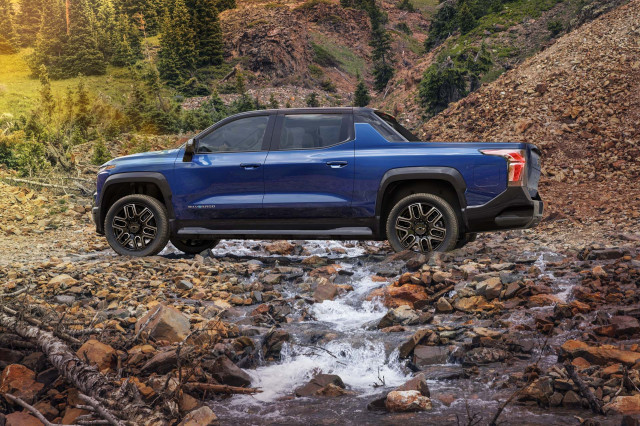 2023 Chevrolet Silverado EV
2023 Chevrolet Silverado EV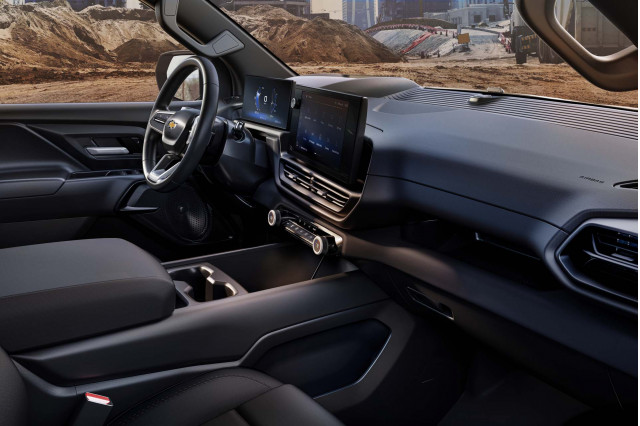 2023 Chevrolet Silverado EV
2023 Chevrolet Silverado EV
The Silverado EV shares its Ultium platform with the GMC Hummer EV and will be related to the gas Silverado in name only. Sold only with a crew cab and a 5-foot-11 bed and weighing about 8,000 lb, The Silverado EV Work Truck, or WT, comes with front and rear motors making 510 hp and 625 lb-ft of torque. With standard all-wheel drive and a steel suspension, it will be able to tow up to 8,000 lb and carry a payload of up to 1,200 lb. Chevy did not disclose battery size in its base model. The top RST First Edition makes 664 hp and 780 lb-ft, with a 24-module, 200-kwh battery pack, and it has an estimated 400-mile range. Chevy also quotes a 0-60 mph time of less than 4.5 seconds and a towing capacity of 10,000 lb, but a payload of only 1,300 lb. It will have an air suspension with four inches of range and rear-axle steering. The RST model will also have an interior gate that opens up to the bed much like the Chevy Avalanche of old. Opening the 60/40 split mid-gate into the cabin will allow items up to 9-feet long to fit. Lower the standard Multi-Flex tailgate, raise its rear stop, and the bed fits 10-foot-10 items.
Price: TBD
Expected delivery: 2024
Teaser for electric Ram 1500 due in 2024
Ram released teaser images in February 2022, and asked fans to weigh in on priorities for the forthcoming electric truck. We'll update this when Ram updates its first EV. 
Price: $41,100-$71,100
Expected delivery: 2020, 2021, 2022, ?
Tesla Cybertruck prototype – Nov. 2019
Tesla Cybertruck
Tesla Cybertruck
Tesla Cybertruck
We're not sure if the production Cybertruck will match the triangular Tesla concept, but Tesla's first pickup embodies the hype of other Tesla vehicles. The stainless-steel wedge with a 100-cubic foot vault instead of a cargo bed can carry 3,500 pounds or tow up to 14,000 pounds, seat six, hit 60 mph in under 3 seconds, and have a 500-mile range in top quad-motor AWD trim. A single-motor rear-wheel drive model was supposed to start at $41,100, and the dual-motor AWD was priced at $51,100; but as of late last year Tesla has removed all pricing and model details from its order site. 

Tesla vehicles no longer qualify for the $7,500 federal EV tax credit.
Price: $52,500
Expected delivery: September 2021, ?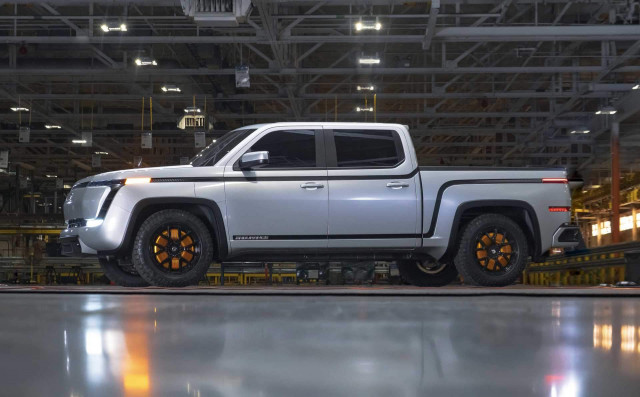 Lordstown Endurance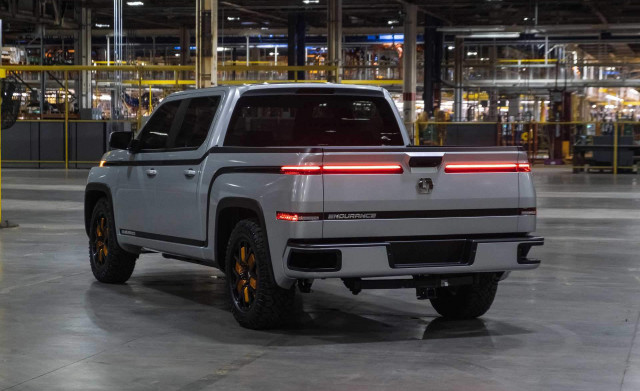 Lordstown Endurance
Lordstown Endurance
Lordstown Endurance
The Endurance makes 600 hp from four motors—one in each wheel—for a 250-mile range; it can tow 7,500 pounds and has a top speed limited to 80 mph. Beset by financial woes and an SEC inquiry over executives selling shares before bad news broke, the Lordstown Endurance electric truck may never make it to commercial fleets or to market. Under a deal to sell the plant to iPhone maker Foxconn—to "keep the lights on"—the Taiwanese company plans to oversee assembly of the truck, potentially later in 2022.

Lordstown hasn't sold a vehicle, so Endurance buyers will still qualify for the $7,500 federal EV tax credit.